The bow maker workshop C. Otto Dürrschmidt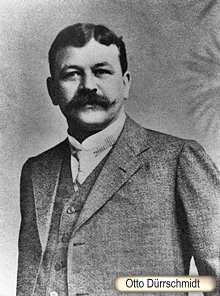 Otto Dürrschmidt is acknowledged as having been the founder of the Dürrschmidt bow making familiy. Even today, members of this family still work in their firm in Markneukirchen. The family records begin with the founding of his Markneukirchen workshop in 1894.

A large percentage of his bows are stamped both with OTTO DÜRRSCHMIDT and with a coat of arms stamped on the frog containing the initials "OD".
In addition to other apprentices, Dürrschmidt's sons Kurt Otto Dürrschmidt and Carl Wilhelm Dürrschmidt received their training in their father's workshop. After Dürrschmidt's death in 1922, both sons continued to run the firm successfully, using both Dürrschmidt's name and stamps. The Dürrschmidt workshop came to employ more and more workers and developed to a point where they could offer a broad variety of products.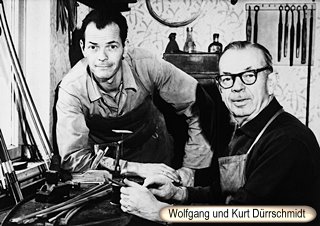 In 1963 the workshop Otto Dürrschmidt was incorporated into the PGH Sinfonia as an independent firm. At the beginning of 1970's Wolfgang Dürrschmidt (1927 - 1995), Kurt Dürrschmidt's son, took over the firm after having worked in it since the beginning of his apprenticeship in 1942. He had completed his master examination in bow making in Markneukirchen in 1957.
It was not until 1990 that Wolfgang Dürrschmidt and his son Uwe could regain private control of the family firm.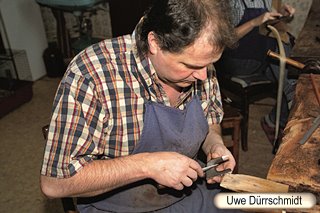 Uwe Dürrschmidt learned the craft of bow making from 1976 to 1978 from his father, Wolfgang, and his grandfather, Kurt Dürrschmidt. He has worked exclusively in the family firm.
After the death of his father in 1995 he took over the management of the business. In June 1998 Uwe Dürrschmidt did his master's examination in Markneukirchen.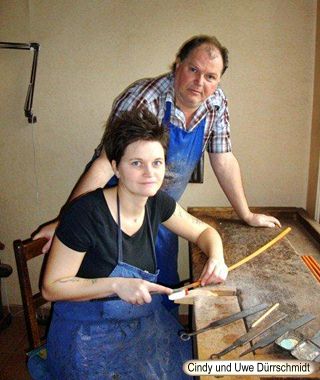 Daughter Cindy also learned the craft of bowmaking from her father Uwe, being the 5th generation to do so. 2007 she passed the skilled crafts examination and has been working in the workshop since then.
Uwe Dürrschmidt's bows, as those of his father before him, reflect the traditions of the family with respect to the models chosen and the general working techniques used. The bows made in this workshop are stamped OTTO DÜRRSCHMIDT to this day.